Everyone should have a tech pouch | What's inside my Peak Design tech pouch
The post discusses the importance of having a tech pouch to organize and carry all necessary tech items and shares my experience with the Peak Design tech pouch and tech I use.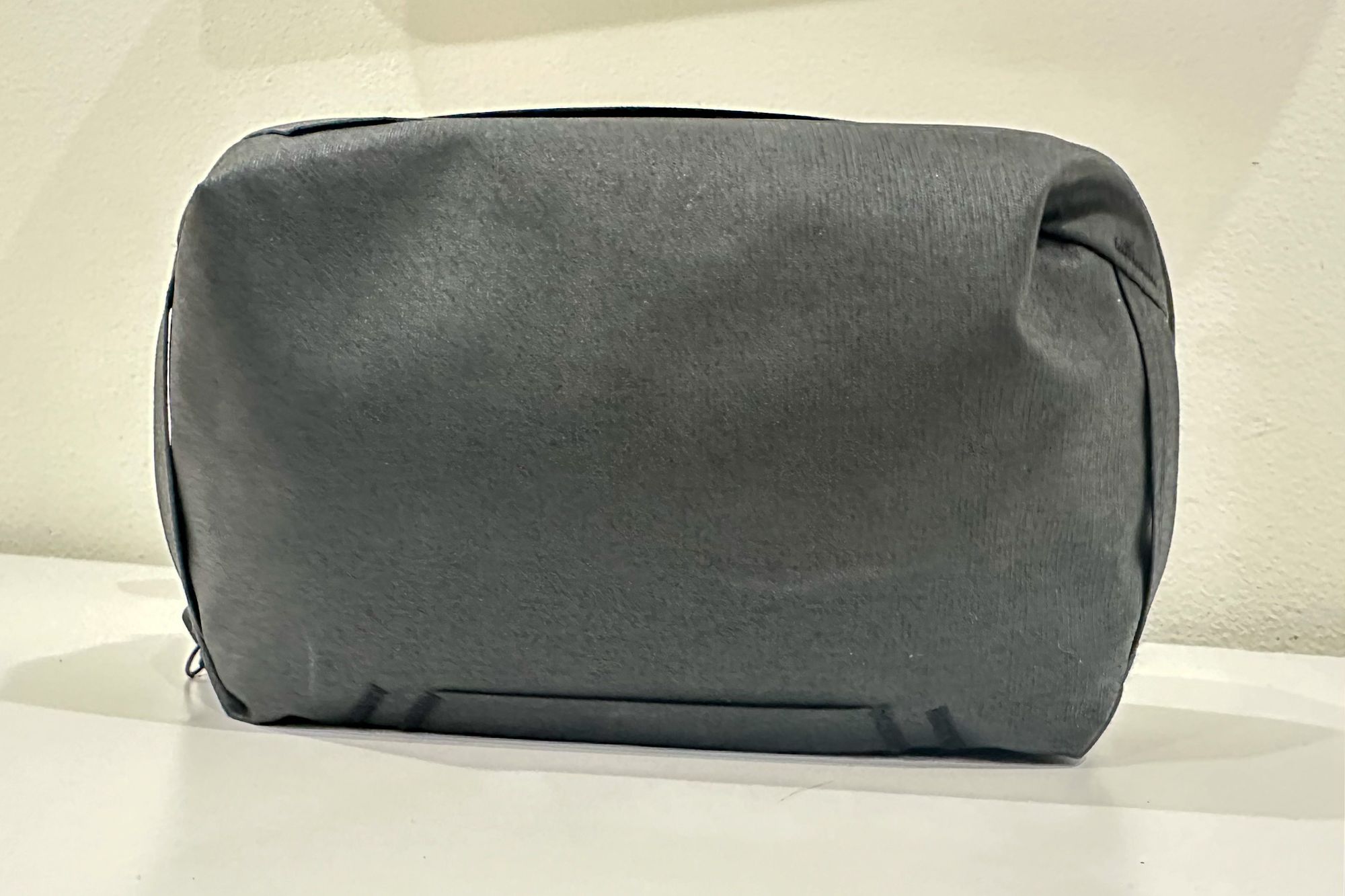 7 years ago I saw UrAvgConsumer's Tech Survival Kit video and from that day on, I've always had some sort of tech pouch with or around me.
It makes so much sense. One dedicated bag to carry all your tech and accessories. No more digging for that one thing you need or untangling an ungodly amount of cables.
My tech pouch has changed and evolved, just like I have. It started with the Amazon Basics tech organizer Judner featured in his first video and now I'm rocking the Peak Design Tech Pouch V2. Here's how I use it for everyday and travel use and why I recommend everyone have some sort of tech pouch.
My tech pouch is always on me.
My life is crazy. I have an almost 3-year-old with endless energy who loves being on the go and a job that lets me work from home but sometimes requires me to get on a plane. The less I have to worry about packing and remembering specific cables, adapters, or dongles, the more I can focus on getting to the airport or making sure I can make it to the zoo before my son loses all interest in the penguins and seals he's been asking to see all week.
I can just grab my pouch and know that I'll have what I need for any tech need.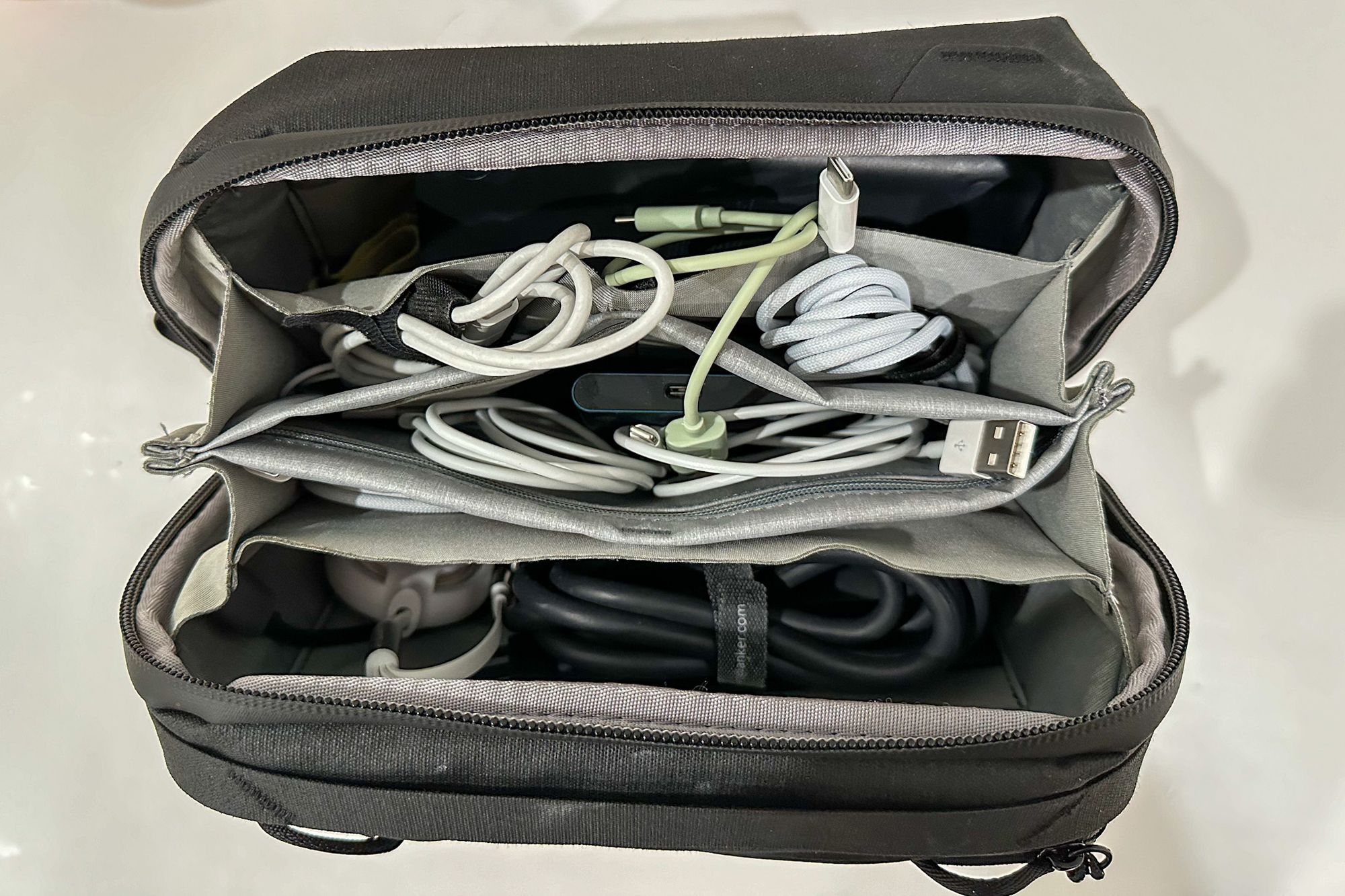 It keeps the chaos organized.
I'm pretty bought into the Apple ecosystem and even though the new iPhone 15 has USB C, I still own plenty of items that do not. My Airpods Pro still uses lightning, my Apple Watch Ultra has its own charger and when traveling, I often pack my son's sound machine, portable fan, portable humidifier and for some reason, those all use micro-USB.
So, while I do have to carry all the cables, I don't have to worry about fishing for them because I know they're in the pouch.
It's convenient to just grab one thing.
This is the big one for me. I love backpacks with pockets because more pockets mean more organization, right? WRONG. It means there's more space to put stuff and then forget where you put them.
That's what makes the tech pouch convenient. All the cables, adapters, AirTags, batteries, you name it, have a home. It's in the tech pouch. So if I need something that has a plug or plugs into something, I know all I need to do is pull out the pouch from my backpack. And, as a backpack lover, it means I can switch between my Peak Design Backpack, Nomatic Everyday Backpack and my son's diaper bag seamlessly.
Space optimization
Because my tech is packed in a compact pouch, it makes room for some of the bulkier items in my bag. Most times it's the two laptops I carry for work but it also means I can pack my iPad Pro, Kindle, Sonos Roam, Bose NC700, or even snacks without worrying about overstuffing my backpack.
Tech pouches are great and can fit lots of stuff, but they still don't fit everything, which means I still have to prioritize what I pack and organize items to maximize space. This means that before each trip and when things get really messy, I take out all the cables, roll them up neatly, and reassess where things should be stored based on how often I use them.
It's not much of a chore and feels pretty relaxing at times. Even when my work and personal life are all over the place, having an organized tech pouch gives me the smallest bit of peace.
What's in my Peak Design Tech Pouch?
Finally. Here's what's in my tech pouch with links to all the things.
Anker 727 Prime - the only brick in this box. I wrote about it before but it fits perfectly in the pouch and charges anything I need it to. There's a new version so you can grab that one if you want more juice or snag the prior version at a steep discount. There's also a cute tiny one that I'm getting my wife.
Various USB A/C to lightning cables - depending on what's charging, I need both. Most of these came with the products.
Apple Watch Ultra charger - I have prior version Apple Watch chargers but I like to carry my Ultra one because it's USB C and it charges my watch faster.
Apple AirTag - there's a lotta stuff in here so I like to keep tabs on where my bag is and get notified if I leave it somewhere.
Tiny notebook and pen - turns out the tech pouch isn't just for tech. How many times have you needed a pen and something to write on? Now you always have something.
Wired EarPods - for when your AirPods decide to checkout. Thank goodness Apple made them USB C, now.
Samsung External SSD - it's compact and wicked fast for when I need to dump photos or videos from my camera.
Targus USB C Hub - still can't escape the dongle life.
Retractable USB 3 in 1 cable - in addition to the assortment of USB A → C, USB A → mini USB, USB A → Lightning, USB C → C cables, I also have this cheap retractable 3 in 1. This cable charges all the miscellaneous tech and it doesn't take up too much space for the versatility it provides
Anker MagSafe Battery - this one is compact, fits well on the side of the tech pouch, and can charge my iPhone wirelessly with MagSafe and other devices with USB C. I also keep one in all backpacks when traveling with family.
Other tech pouch options
Before purchasing my Peak Design tech pouch I was on the fence and super close to buying the Tomtoc version. They're similar in terms of size and organization styles, both featuring origami-style pockets. Personal preference and the fact I also ended up buying a Peak Design Everyday Backpack (30L) led me to buy the Peak Design tech pouch, even though it was more expensive than the Tomtoc.
The Bellroy Tech Kit offers a similar form factor to the Tomtoc and Peak Design but opens flat instead of using origami-style pockets. This is great if you just like to unzip the pouch fully and lay it all out there. It also comes in more colors.
Native Union is known for its high-quality products, and therefore, its premium price tag. This one was recommended by TaxTwitter pal Josh Youngblood. He says:
It works well. I keep in the backpack so when I'm traveling I have everything I need including a small SSD in there. I also use the mophie charger that will do the watch, phone and airpods.

— Josh Youngblood, EA (@JoshYoungblood) October 1, 2023
Sooo, if you buy this one. It's his fault! 😊
I was in college when I bought my first tech organizer and it was this one. Nothing flashy and most importantly, affordable. At $13 at the time of posting this, the Amazon Basics organizer gave me a hardshell case to store all the tech items I had at the time. It fits in my backpack, keeps items organized, and does the job. You don't get fancy origami-style pockets or leather accents, but you do get a solid case to protect and store the things you need.
Also, you don't have to get something fancy! During our recent family trip to New Zealand and Australia, we bought some mesh pouches and there were life savers! We labeled them and because they're transparent, we could always find what we needed. These were helpful for our son's headphones and adapters, snacks, and toys.
Need more tech pouch content?
The Pack Hacker YouTube channel has become a staple for me so linking a video below that covers a lot of the pouches I mentioned and more!
🔗
Affiliate link disclosure. Some of the links shared in this post are affiliate links, which means I get a commission if you choose to use them at no additional cost to you!