Buying a Tesla in Texas: Personal experience and nuances in the Lone-Star State
I took delivery of our family's first electric vehicle in November 2021; a 2022 Midnight Silver Tesla Model Y Long Range. It's a wonderful car to own but you'd be surprised at just how different it was to buy this car compared to my 2016 Toyota Camry.
In this post, I'll share the key differences and things to consider if you're thinking about buying a Tesla in Texas.
There are no Tesla dealerships 🚗
There are showrooms, service, and delivery centers, but all of the forms and paperwork you would typically do at a dealership are done completely online when buying a Tesla. If you planned on showing up at a Tesla showroom and buying a car off the lot (if there are any), you're more than likely going to sit at a computer with a Tesla sales rep and complete the process online.
Vehicle needs to be fully paid for (either financed or in cash before you take delivery) ✅
Texas has a rule that requires a vehicle to be paid in full before it can be delivered to the buyer. This differs from other states where you can inspect the vehicle before making the final payment. Tesla used to have a return policy where you could get a refund as long as you were within 7 days and the odometer was less than 1000 miles, but that seems to have disappeared.
You are responsible for paying the sales tax on the vehicle separately 💸
Typically when you buy a vehicle at a dealership, you are either fortunate enough to pay everything in cash (goals) or you're going to finance the purchase, either at the dealership or through a third-party bank. Either way, the price you pay at the dealership includes the sales tax amount. Well, if you're buying a Tesla in Texas, Tesla legally isn't allowed to charge or collect sales tax. That means the amount you pay to Tesla, either in cash or through your bank, does not include sales tax.
The sales tax will be paid whenever you register the vehicle. Personally, I financed a portion of the vehicle amount through DCU and then set aside cash to pay the sales tax when I registered my Model Y. You might have the option with a third-party bank to include the sales tax amount in your loan and use it to pay separately, but I can't confirm since I did not do this myself. It's worth a shot if it's something you'd like to do.
Your vehicle needs to be insured for it to be released 👩🏽‍💼
Another item that's a little frustrating because it seems like you are already paying a ton of money for a product you don't quite have yet. Texas requires that your vehicle be insured before it is delivered. If you're buying a Tesla, that means you'll have to submit proof of insurance before you can schedule your delivery date.
This process itself is straightforward. Once you receive a VIN from Tesla you should be able to get quotes from insurance providers and even get an insurance quote from Tesla themselves as they now provide car insurance in Texas. You'll get the option to upload your insurance card and it'll check off one of your pre-delivery tasks. For me, once I got my VIN I was in my vehicle 3 weeks later. Plenty of time to get insurance quotes.
Deliveries are pushed out - a lot 🗓
Tesla estimated delivery dates incorporate many factors, including vehicle configuration and delivery locations. When I placed my order in August 2021, my expected delivery date (EDD) was November 2021. I took delivery on November 27th, so it was pretty spot on but the EDD can fluctuate at any time.
If you were to order a Model Y today, the EDD is 6 months out into July 2022. That's not a problem if you're not in a rush, but if you need a car right now that might be an issue.
There are no state rebates... for Teslas 😢
States like California offer incentives for residents to purchase electric vehicles. Based on my research, Texas offers a very limited $2,500 rebate, just not for people who buy Teslas. This might be because of  Tesla's direct-to-consumer model. It's unfortunate because the Texas Commission on Environmental Quality (TDEQ) published a list of eligible vehicles and there's a lot of them. Tesla just wasn't any of them.
Supercharger network is available but not super convenient unless you're on a long trip ⚡️
One of the main reasons people buy a Tesla is the robust supercharging network. The thing is, in Texas, unless you're taking a long road trip, you might be going out of your way to use one.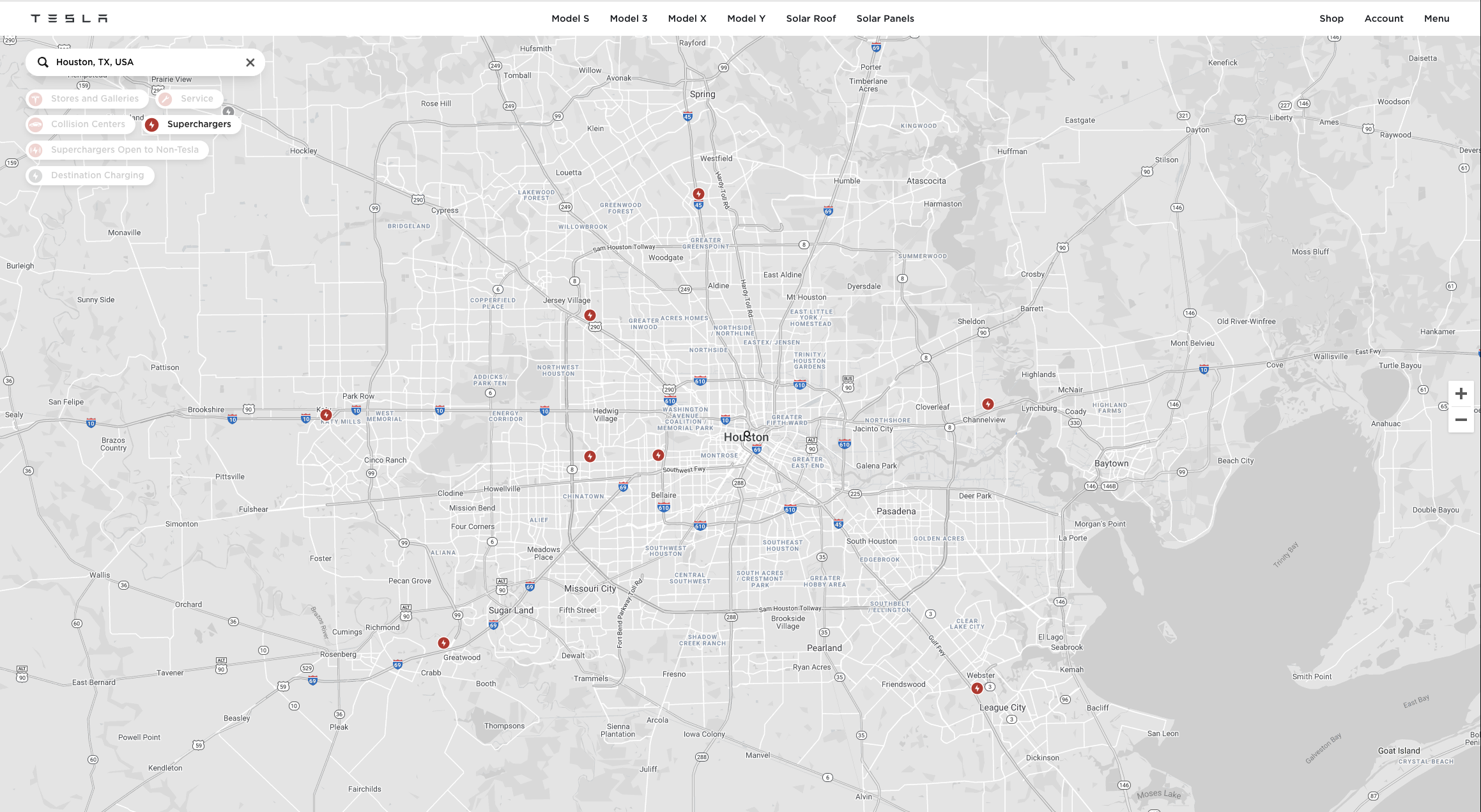 I'll admit, though, many superchargers are being added and are planned to be constructed closer to downtown. Supercharge.info is an unofficial website that finds permit information to determine potential future superchargers. In Houston, there is one planned at an H-E-B in Montrose and users in the Tesla Motors Club forum have been posting construction updates.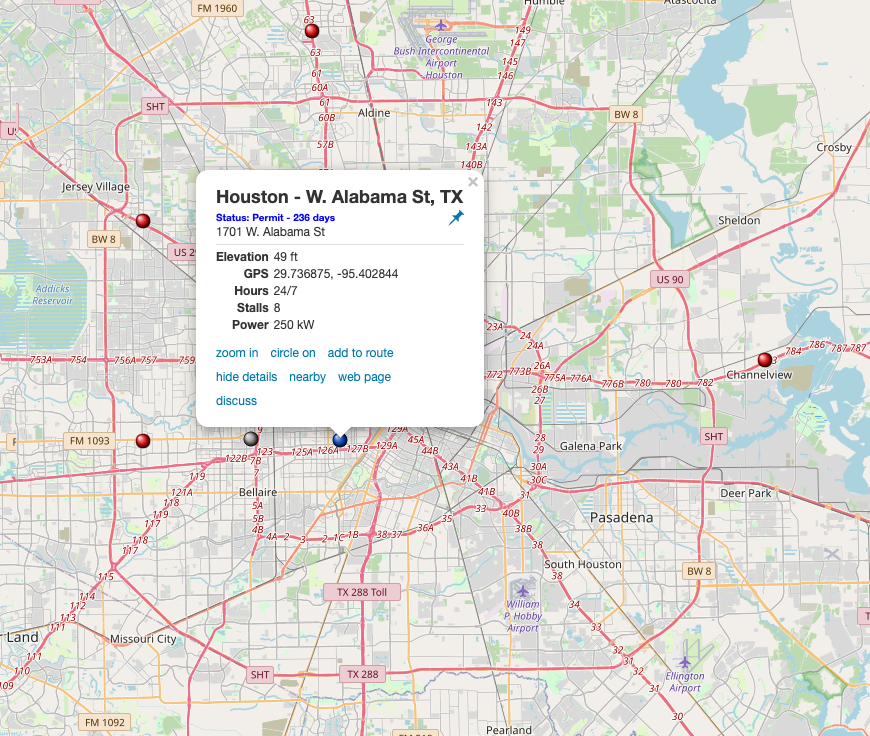 If you are considering a Tesla and plan on using their superchargers, check out the Supercharger map to see which ones are near you. Also, you can use an app like A Better Route Planner (ABRP) to simulate what a trip would look like in a particular EV and get an idea of the charging stops.
Referral program for vehicles is no longer 💔
As of September 2021 Tesla no longer offers referral perks on vehicle referrals, which is a shame. When I ordered in August you and the person that referred you would get 1,000 free supercharger miles. It's still valid on Solar Roof purchases, though, so if you're also considering buying that, I'll leave my link here.
There are more hoops to jump through if you buy a Tesla in Texas, but as long as you're proactive and stay in constant communication with you're Tesla sales advisory, insurance company, and bank (if you're not financing through Tesla), you should be in good shape. While things like driving to the DMV on a Monday morning isn't the most riveting experience, chances are you'll still be in the honeymoon stage and looking for opportunities to drive your new car wherever you can.
💡
Disclaimer: I don't know that I needed this but better safe than sorry. This post is me sharing my experience and is not in any way legal or financial advice. I'm happy to share my experience but if you have any specific questions about the purchasing process or financing, it's best to reach out to Tesla and/or your financial institution directly.