iPad Pro Magic Keyboard First Impressions (11-inch)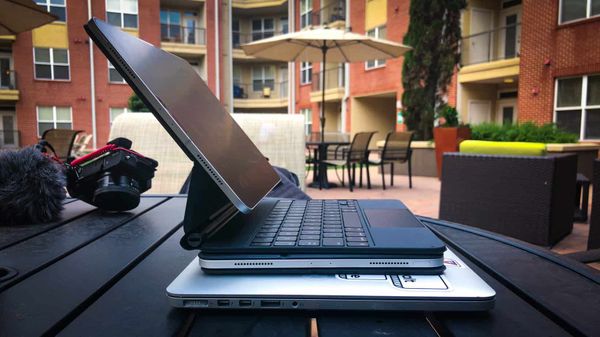 It's here. It's finally here.
Hold on tight, folks. This product is a big deal.
Such a big deal, that I'm breaking up this review into three separate posts:
First Impressions
Comparison to folio keyboard case
Detailed review
Given that I just got this keyboard on Friday, April 24th, let's start with my first impressions. Boy, do I have some first impressions.
Initial Impressions
For some context, I'm using the 2018 11-inch iPad Pro and was using the Apple folio keyboard case before I got this.
Overall:
• Size is good, weight isn't too bad
• You lose the tablet-ability you had with the folio case, but;
• You gain a way better keyboard and trackpad
• $300 is too much. I would be okay being $179, $199 tops
• This will change how some people interact with their iPads
• I see this being used by creators, business owners and people that use their iPad as their primary device
Let's break it down.
Keyboard Size
The keyboard feels amazing (of course). It feels like a MacBook keyboard and it definitely feels way better than the prior iPad Pro keyboard. The keys, the tactile feedback all feel a bit more refined. But, I'm having some ehhhh thoughts about it.
It feels a little cramped. Admittedly, I am using the 11-inch iPad so it's bound to be smaller, but there's some things I'm running into that I didn't with the prior case.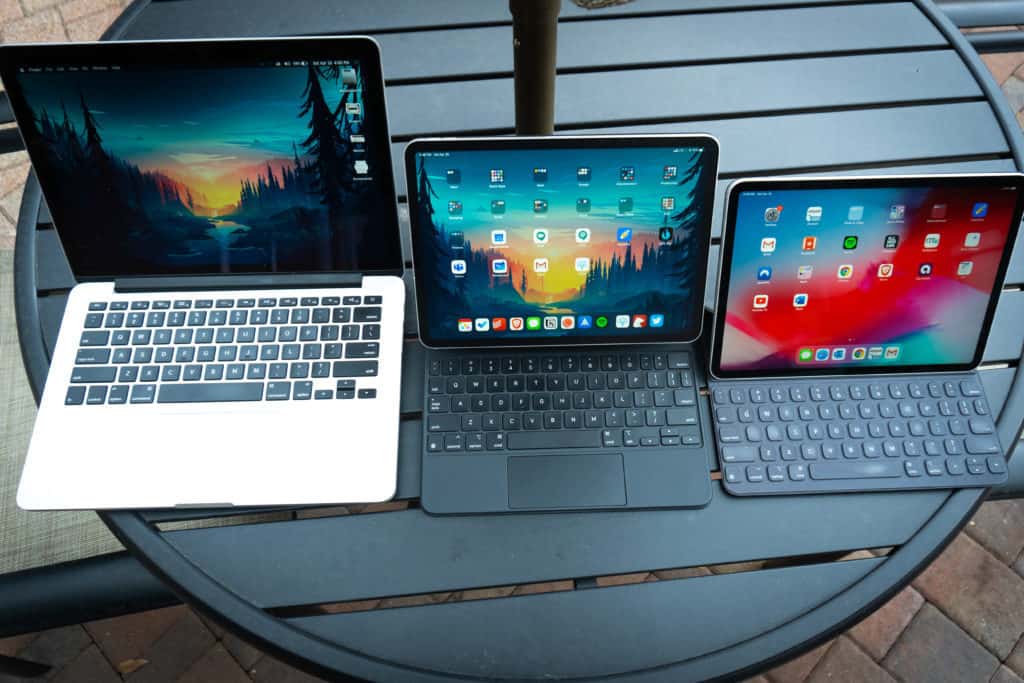 For example, because the iPad is now floating (which is awesome, by the way), my fingers keep hitting the bottom of the iPad if it's extended all the way out. If I'm hitting the delete key (which I use a lot) or if I'm reaching for the number row, I'm grazing my iPad with my fingers. It doesn't hurt of course, but it's just something I noticed immediately after using it.
I have found that if I push the iPad in just the slightest, I don't run into this issue anymore.
Along those lines, one of the things a lot of people didn't like is that Apple didn't include a row of function keys. I agree, that would have made it a lot easier to control keyboard and screen brightness, music, volume, etc. But, WHERE WOULD IT GO?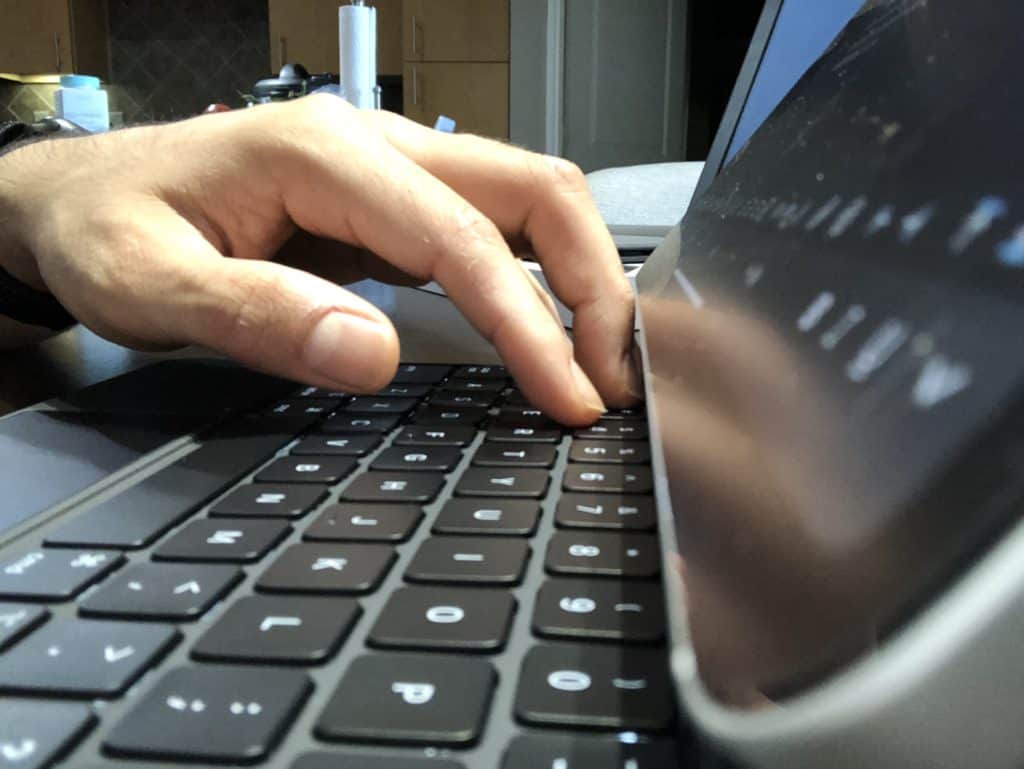 One option that was shared from a person on twitter was to get rid of the globe key, replace it with a function key and add additional functions to the number row. Problem solved. Most of the time I use the globe key it's by mistake anyway.
The Trackpad
A lot of reviews have pointed out the the trackpad is a bit small. I agree. It's longer than what I would have thought, but it is a little short.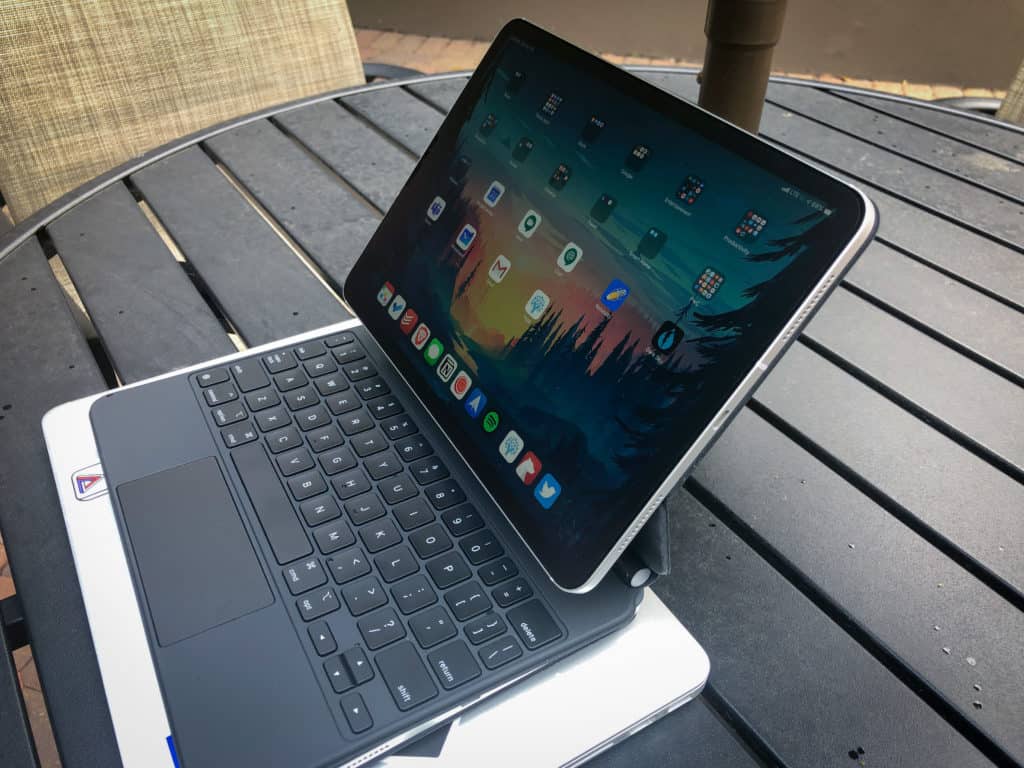 When I'm scrolling I often find my fingers scrolling past the trackpad and inadvertently hitting the space bar. That's just something you'll have to get used to though. There's just not enough space to make the trackpad a little taller.
Other than that, the trackpad is awesome. I'm more of a mouse person, but I was pleasantly surprised at how useful the trackpad is and how natural it feels when using an iPad. The gestures are similar to what you will find on a MacBook, so everything feels familiar.
You can click anywhere on the iPad, which is nice. And something I recently noticed is that you can only click. There's no tap to click like there is on a Mac, which is interesting.
Functionality
This keyboard helps the iPad function a lot more like a traditional laptop. However, you have to be willing to compromise on some things. And for $300, I'm not sure I feel about compromising on some of these.
The keyboard doesn't fold back like the prior folio. Other keyboards either detach completely or let you fold the keyboard back so you can use the iPad like an iPad. That's not the case here. Want to put it in portrait and browse the web? You're going to have to take the iPad off the keyboard.
It's meant to stay on a desk. Sure, the added weight helps provide some stability. And yes, this is easy to use on a lap, but this is unapologetically a keyboard, which means it is intended to live at a desk. If you want to use your iPad for something other than typing or casual media consumption, you're probably better off taking the iPad out of the case.
However, there are some things that partially make up for the inconveniences and undoubtedly make this an Apple product.
Ease of use. Something that's often overlooked is just how easy this is to set up. You snap the iPad into place and it works. You don't get that on any other iPad Pro keyboards as most of them use Bluetooth. Since my wife also uses an iPad Pro, she can pop her iPad in and use the keyboard case. It's just easy to use.
Pass through charging USB C port is clutch. It charges at a slower rate than the iPad's USB C and I've heard it only accepts certain USB C cables, but it's convenient. If you're at a desk, it's no different than plugging in your laptop. Plus, you get an extra port in case you need to import/export files.
Final Thoughts
I'm annoyed, but excited. I'm annoyed because this is too expensive. It's $100-125 more expensive than it should be.
However, this form factor is exciting. The trackpad makes sense. The better keyboard makes sense. I'm excited how this will influence not only other case makers but other companies. Check out my blog post about it!
Will Microsoft nail it with Windows 10X and the Neo? I hope they can take a lesson here and see what worked and what needs improvements.
Overall it's a really exciting time to be a tech reviewer and consumer. I plan on spending more time using the keyboard so I can get a better idea of what it can and cannot do.
Stick around for my detailed comparison with the folio keyboard and my long term review.
---
Fun Fact
If you made it this far, thanks! But also, just wanted to share that I wrote this entire post on the iPad.
I started the draft in Bear and then fired up the web version of WordPress and finished it up.
I added all the images, did all the SEO optimization and backed stuff on the iPad. It wasn't as painful as I was expecting to be honest.
It's times like these, though, where I wish I had the 12.9-inch iPad. I'll save that for another post.
---
Affiliate Link Disclosure: Some of the links in on this site may be affiliate links and result in a commission to the site without an additional cost to you.