Coin 2.0 Review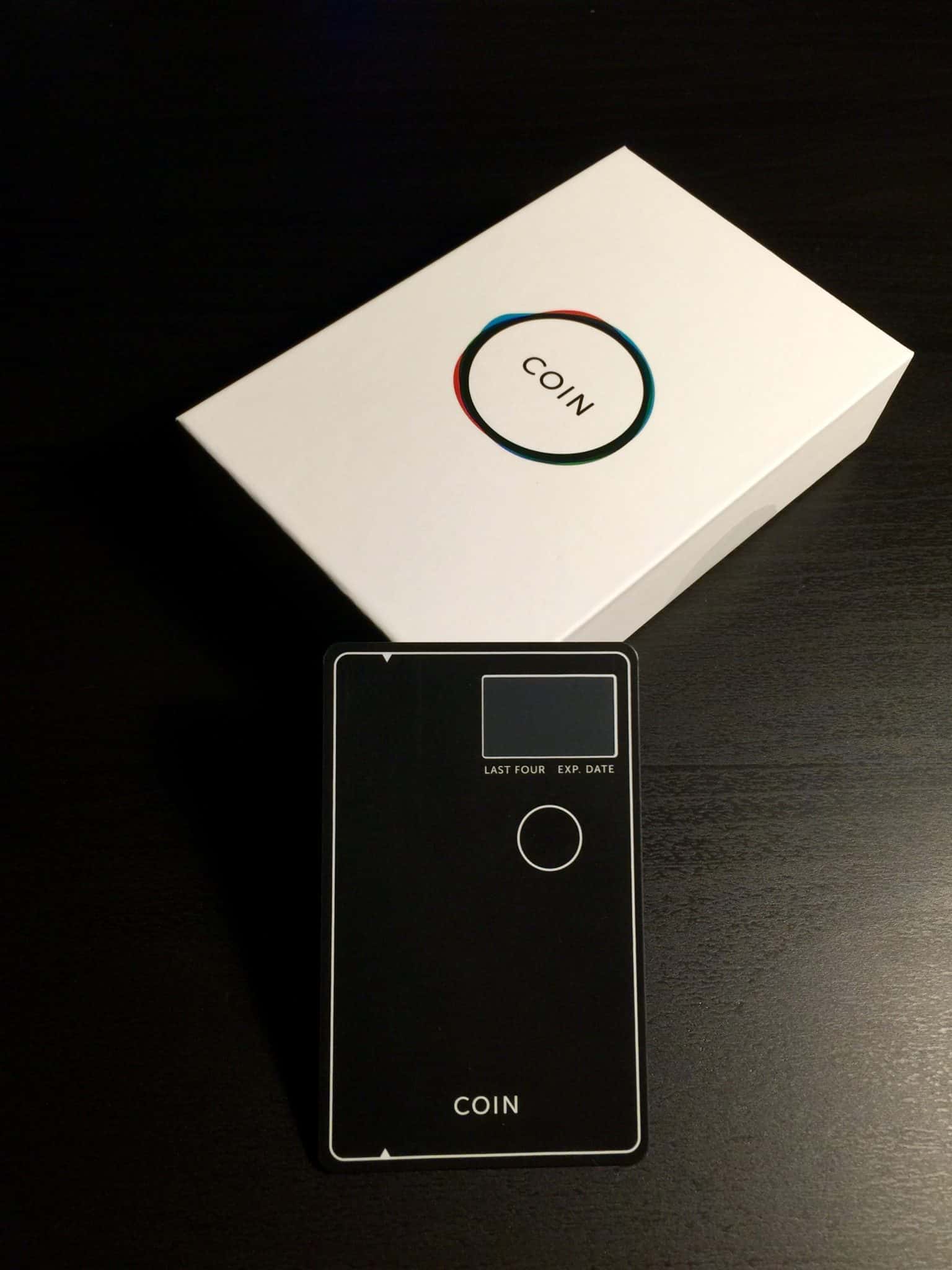 FYI – This post was written almost four years ago. Coin as a product doesn't exist anymore. It was acquired by Fitbit in 2016 for the wireless payment technology (that's where the NFC payments on Fitbits came from!). Still leaving this post up, though, because it was my first review and the smart credit card concept is still interesting to me.
What's a Coin?
For those new to Coin, it is an electronic card that lets you store multiple debit, credit, gift,  membership and loyalty cards simultaneously on one card. The card connects to your smartphone via Bluetooth and comes with a card reader that allows the user to swipe and store several cards on the Coin app.
The app itself has the ability to store an unlimited number of cards. However, the card itself can only store 8 cards at a time. The app makes it simple for customers to swap out cards between the app and the actual card by syncing the desired cards.
Coin uses 256-bit encryption to protect data on the Coin app and 128-bit encryption on the actual card. An extra level of security is added to the card via Bluetooth Lower Energy (BLE). This means that the card only works when in proximity to your smartphone, so there's no need to worry about someone stealing your Coin and making unauthorized purchases.
But, just in case you leave your Coin and a restaurant or at the cashier's, the mobile application alerts you when you are no longer in proximity to your coin. Additionally, if your card disconnects from your phone, the card will lock preventing unauthorized use.
Coin's goal is to eliminate a clunky wallet, consolidate all cards into one and make life simpler at checkout.
What's new?
After a shaky start to its game-changing product, Coin has finally started to ship the second version of its digital credit card. Coin 2.0 is an upgrade of the first-generation card that includes a larger e-ink screen, thinner profile, and a near-field communication (NFC) chip.
It builds on the original Coin by offering new features like NFC wireless payments. However,  the card still lacks EMV Chip and Pin capabilities, a feature that backers have consistently requested.
The first iteration of Coin suffered from shipping setbacks and frustrated many of its initial backers. As an initial backer myself who was promised a Spring 2014 ship date, then Summer 2014 ship date, then Spring 2015 ship date, I became skeptical of the product, requested a refund and moved on.
However, on November 9th it was announced that Coin 2.0 would be available on Amazon Launchpad for $99, $25 off the regular price.
Being the techy that I am, I went ahead and purchased Coin 2.0 to give it shot (again). Here's what I thought.
Design
Coin 2.0 is thin, but not crazy thin. It's an awkward thin. It's thin enough to notice the battery and some of the electronic components inside the card and goes as far as making the Coin look flimsy and easy to bend.
It's supposed to be durable enough to last for 2 years, but it'll take some getting used to putting in your wallet. I just got mine November 17th, so we'll see how long it lasts durability wise.
Price
As mentioned before, I was able to pick up my on Amazon Launchpad for $99. What's great about this is that I was able to use my Prime shipping and received my coin in two days! A lot better than the year I would have had to wait on top of the original Spring 2014 shipping date for original backers.
When I was a backer, the pre-order amount was $50. After I left and the company finally started shipping a product, the price hiked to $125 plus tax and shipping. At $99, I'm not complaining, yet.
Functionality
This is where Coin wanted to make its money and so far, it's pretty good.
The process of setting my cards up and swiping them was a bit tedious. I had to swipe each card multiple times until the card reader and app was able to successfully read my cards information. I was able to swipe all of my desired cards after a few tries, but for those who expect simplicity from new technology,  the process can be annoying.
I was able to store a Chase Debit and Credit Card, Simple Debit Card, Google Wallet Card, Discover Credit Card, Costco Membership Card and for some reason, my license, and school ID. The last two were for fun, but it actually worked! You essential store these cards as "Other" and the app reads and stores the card number. Who knows when I'll need my license swiped, but as for my school ID, I'll see if it actually works on campus (stay tuned).*
I was able to check the balance of 4 debit cards at one ATM, including my Google Wallet Card. The ATM was able to read the different card numbers each time and, had I attempted, would have allowed me to withdraw cash. This can be a convenience for users who have multiple checking accounts and who want to use their bank's ATM to avoid fees. Those who don't mind withdrawal fees can rest assured they'll have the convenience of using any card at any ATM.
Coin is powered by an internal battery that is advertised to last up to 2 years. This is a major downside because if your Coin's battery were to die, you would be forced to purchase another one at full price. This is a feature Coin competitors have capitalized on and one that may shun people from shelling out $99+.
Competitors
To be clear, Coin is not the only digital card out there.
Image from Plastc.com
Image from Swypcard.com
Companies like Plastc, Swyp, and other start-up companies offer similar and even more ambitious features than Coin.
Plastc offers everything Coin offers plus a larger e-ink screen that can display a barcode for those loyalty and gift cards that can only be scanned. Plastc also promises Chip and Pin capabilities, a feature Coin is lacking.
Swyp offers similar features as Plastc, but it is made out of metal. Both the Plastc and Swyp cards are rechargeable, another of Coin's weaknesses.
Although Plastc and Swyp offer features everyone wished Coin offered from the get-go, they don't ship until April 2016 and Summer 2016 respectively. With the pace mobile payments have been moving recently, it will be interesting to see if Coin and its competitors will still have a market to penetrate.
Overall
Coin 2.0 is no doubt a game changer. It's the physical version of Apple and Android Pay and has a chance to shake up the way we pay for things. The refreshed second-generation card is somewhat new and we won't have an overall idea of the durability and its functionality nation(world)wide, but as more people get their hands on Coin, we'll get a better idea of what a digital card  has to offer consumers.
Here's a picture of my fiance's cat because, of course, this is the internet.
*UPDATE! 
I was able to store my school ID and use my Coin to gain access to my university's recreation center. However, I was not able to use my Coin to gain access to the business school's graduate student only study rooms. My guess is that the card readers are what make the different. The recreation center used a basic, USB card reader whereas the business school used a network connected card reader that is attached to the door.